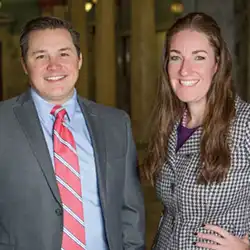 In 2018, after 15 years in corporate America, Amelia Powers Gardner brought her vision, innovation and leadership to County Government when she was elected as the Utah County Clerk/Auditor. Amelia began by building her leadership team, starting with Government Policy Expert, Attorney, and Marine Veteran, Josh Daniels, who she tapped as her Chief Deputy Clerk/Auditor.
This dynamic duo got to work analyzing the operational functions of the office, identifying opportunities to improve services and do it more efficiently. They quickly identified two areas that were begging for out-of-the-box innovation: Marriage Licenses and Elections.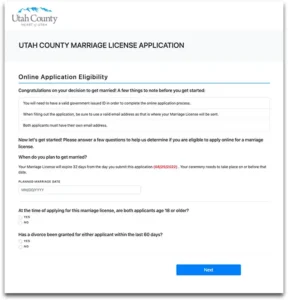 While Amelia Powers was running for County Clerk/Auditor in 2017, she got engaged to her now husband, Tobin Gardner. Of course they needed to get a Marriage License before getting married, but back then, you had to show up in-person, with your fiancé to file the application and verify your identity. This ended up being an extremely frustrating process that took 2 1/2 hours to complete, with kids in tow.
Needless to say, this is one of the first processes Amelia was determined to improve the first week she was in office. Her and Josh immediately engaged with several vendors, reviewing their capabilities and offerings. Disappointingly, none could meet the high security standards of a Government system, and most were unwilling to integrate with their internal systems. And their interfaces were terrible! Next, they sought out third party custom development, but quickly realized it was way out of their budget.
Undeterred, they turned to their internal county IT department build the system in-house. They were able to get version 1 was done in 9 months, and continued to expand and refine the system over the next 3 years. It became an instant hit in not only Utah County, but all across the State of Utah. They saw a rapid increase in marriage license applications, and established wedding venues across the state had their website bookmarked so that forgetful couples could rapidly get a marriage license, even on the day of their wedding, no lines, no waiting.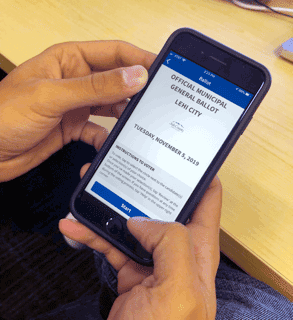 Ironically, both Amelia and Josh had their own experiences with ballot failures long before they ended up being in charge of vote integrity and counting.
In 2008, Amelia was working abroad in Edmonton, Canada, and Josh was serving as a US Marine in Fallujah, Iraq, so they both needed to vote remotely. When absentee ballots were sent out that year, Amelia got her primary election ballot, but not a general election ballot, while Josh did not get a primary election ballot, but did get his general election ballot.
When Amelia and Josh looked at how they could bring more efficiency, transparency and trust to elections, they knew leveraging new technologies had to be part of the solution. Blockchain was at the top of their technology list, and remote digital voting was the place to start proving it out. Josh had already been one of the first to use a mobile digital voting platform for community elections. So they started a pilot program within Utah County to use blockchain based mobile digital voting for their overseas voters. It was highly successful and received great reviews from the participants. But the 3rd party system was still overly complex and quite difficult to integrate with.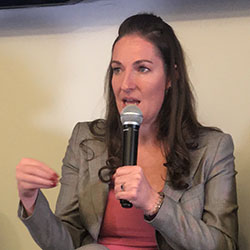 As word spread about the innovation and success in Utah County, Amelia was regularly invited to speak all across the nation about what they had done. Then other jurisdictions started calling and asking questions about how they could do the same things, but were disappointed to find out the solutions were built in-house, or technically difficult to implement. But with a County Clerks office to run, they didn't have time to extend their success to others.
Then in 2021, Thomas Stack, a seasoned technology professional with experience in finTech, cyber-security and government sales, contacted them wanting to explore opportunities to bring these solutions and more to any county in the nation. And InnoGov was born!